I no longer has the stocks listed here. I have sold them to gain a passive income in P2P lending.
This post is to tell you about the stock investments i have made. In comparison to the other investment types, i use stocks for capital growth (increase value of an asset over time). While p2p-lending is a passive income source paying me interest, i am not invested in stocks to collect dividend, directly. Some of my stocks has high dividend yields, some are speculative, and some are stable stocks.
It would be difficult to provide a specific strategy. However, it can be divided into three strategies as shown below:
Strategies and my definitions
Dividend/blue-chip
stocks
Speculative/growth
Stable stocks
At least 5 years of
positive cash-flow
with dividend AND
has dividend of at least 4%.
Has technology which i believe can change
the future OR can change demand/consumer behavior.
Somewhat stable stock value OR somewhat
stable cash-flow.
The 3 "strategies" are what determine if i will be looking into a specific stock. However, it is not a given that i will be investing in a stock if they fulfill the criteria. Therefore, i am looking into financials and not so much into management, technical analysis and constant news. Remember, these definitions are only from my point of view.
Nvidia; Ticker: NVDA – blue-chip/speculative
Nvidia is one of my blue chip/speculative stocks. I view Nvidia as a blue-chip stock because they are on top of the market within the graphic processing unit (GPU) industry. Their main source of income is the GPU's called "GeForce". This is and has been their main source of income. They are currently competing with the main competitor within GPUs called AMD. Furthermore, Nvidia's GPU are well-known within the cryptocurrency mining industry, due to their high GPU performance. Nonetheless, Nvidia is moving within many different industries. Both consumer grade, like the GeForce product line, microcomputers (system on a chip units, SoCs) like their Tegra and artificial intelligence like the Jetson. All in all they have five focus areas: Gaming, professional visualization, data centers, audio and artificial Intelligence.
With a valuation of over 100 billion, a high P/E value, massive profits and the lists goes on. Like many other successful tech-companies Nvidia has a high P/E value. However, tech companies is known for having high P/E values, and having Nvidia's P/E value that high is not a red flag for me. However, i see a company that has seen massive growth, still with the ability to adapt to new markets. Therefore, Nvidia is a long-term hold and i could look to buy more, even at this historical high stock value.
Gratomic Inc.; Ticker: GRAT – Speculative
Gratomic INC is by far the most speculative stock in my portfolio. Gratimic is in business for exploring for minerals which involves a lot of risk, hence there is no certainty that Gratomic will find any minerals. So far Gratomic is losing money, however they keep getting financing. Therefore, some must either trust Gratomic's case or they believe graphene will be the next big thing, and i agree. Here is why: By enhancing tires with graphene there is a proven effect of 2 meters shorter braking distance at 50 km/h. The rolling resistance of a tire is reduced significantly, meaning a better fuel economy and in the long-term, less wear on the engine to put power from the drive-train to the road. Furthermore, when testing graphene enhanced tires against premium tires, the graphene tires gets approximately 5000 kilometers more before degrading.
With the increased awareness on sustainability and circular economy i think graphene can reach a massive future market. However, they need to perform before they run out of money, or investors lose interest in the project. However, the risk can prove to have a major upside if Gratomic finds a mine and can process the graphene.
Investor presentation: https://gratomic.ca/wp-content/uploads/2019/01/Gratomic-Investor-Presentation-Jan19.pdf
JD.com Inc; Ticker: JD – Growth
JD.com is a major e-commerce for B2C. They are a member of the Fortune Global 500 and one of the two biggest online retailers in China by transaction volume and revenue. The other major online retailer is Alibaba. JD.com is partially owned by Tencent and Walwart, among others.
What sets JD.com aside from other e-commerse, like Alibaba, is their major focus on robotics and AI. JD.com is one of the world's leading company in high-tech an AI. They have specialized in delivery through drones. Furthermore, they possesses the largest drone delivery system, infrastructure and capability within drones in the world. Above all, they keep innovating with starting testing of robotic delivery services and building drone delivery airports.
Financially JD.com is a huge company having a total revenue of 60 billion euro in 2018. However, JD.com got a net income of -300.000 euro. JD.com's revenue are increasing at an incredible rate. In just 5 years they have grown from a revenue of 15.169 to a 60.945 million a 300% increase. Therefore, looking at the future potential when they expand to other major markets, when autonomous robotics have more firm regulation, they will hit the motherload.
Alibaba Group Holding Ltd; Ticker: BABA – Growth
To be honest i invested in Alibaba based of Jack Ma. After seeing youtube videos of him describing the processes he has gone through i knew the man could get whatever the f*ck he wants. To give it brief, he was working at a hotel giving tourists guided tours. He was four years of taking a exam which is only being held once a year. Even though he was struggling at school he still managed to be head of the student council. He graduated with a B.A. in English. After his graduation he got a job as a teacher. From here he started a translation company, which never made success. Lastly, he created Alibaba.
He has now created the Ebay of businesses. Alibaba is where all sizes of businesses can find their supplies or suppliers.
Financially Alibaba has gone from a revenue of 6.925 to 33.012 million euro. This is almost and 400 % increase. In 2018 they made a net income of 8.100 of the 33.012 million euro.
Carlsberg A/S Class B; Ticker: CARL-B – Stable
Carlsberg is a company from Denmark who is responsible for a big share of beverages sold throughout Denmark. Furthermore, they are providing Europe a big share of beverages and expanding in the Asian market. Furthermore, i have been on a company visit to see their production and logistics. Additionally, i know that they only collect the highest grading students from the university for internships. Furthermore, the stock is a quite stable stock which provide incremental gains, and a small dividend of 2%.
There is not much to say about Carlsberg. Just a blue-chip which performs well when the economy is good, and floats when the economy is bad.
ChemoMetec A/S; Ticker: CHEMM – Speculative
ChemoMetec is one of the more speculative stocks in my portfolio. ChemoMetec was founded back in 1997 and have been developing cell-counting and cell-analytic systems since then. The products are used within cell based immunity therapy, cancer- and stem cell research, development of medicine, and production- and quality control. They are in massive growth, which can be seen on their stock price.
As seen in the stock price above, ChemoMetec has had serious growth the last 5 years – over 4.000% price increase. ChemoMetec is a company of only ~70 people and selling their products in more than 100 countries. They have a EBIT-margin of 22% in the fiscal year of 2018.
With their current momentum and the world-focus on cancer research i cannot see how ChemoMetec should not continue growing.
DSV A/S; Ticker: DSV – Stable
DSV is large logistics company with road, air and sea services. Furthermore, they have offices in more than 75 countries and employee more than 47.000. Within road, air and sea they have multiple selections of transportation. During my bachelor degree i was a student helper in supply chain management at a manufacturing company, which used DSV. The self-service is very user friendly, furthermore they provide a nice tracking of the distribution process. They are extremely flexible in terms of order times to pickup of your goods. Therefore i have good experience with DSV, and they where one of the logistics firms which had the best reliability. Hence i see them as a good investment. They do not only make investors happy, they can satisfy their customers needs as well. Furthermore, they are using innovating tools (e.g. EDI and other reporting IT tools) to advance from competition.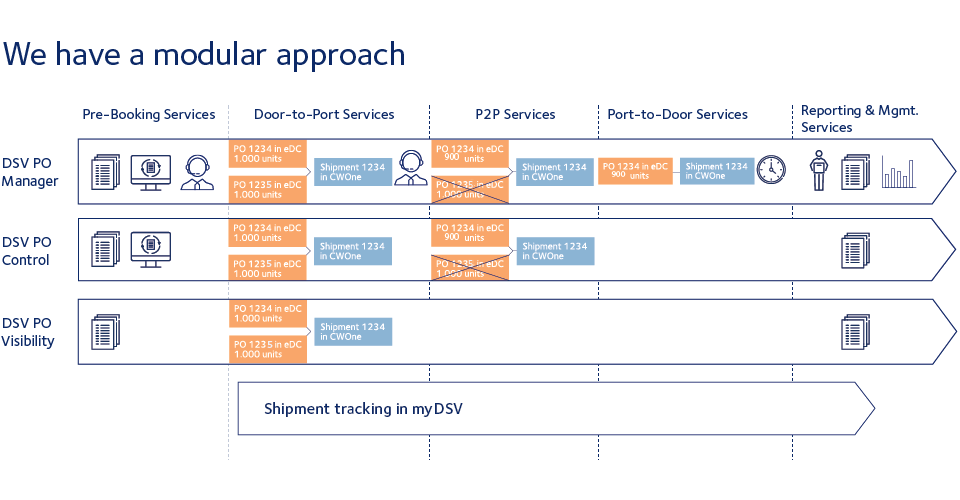 In terms of financials DSV is a more stable company. Revenue in 2018 closed at 79,05 billion DKK. Furthermore, the net profit for 2018 was 4 billion DKK. Lastly DSV pays ~0,35% dividend.
Nordea Bank Abp; Ticker: NDA DK – Dividend
Nordea is a Nordic bank, mainly operating in Sweden, Finland, Norway and Denmark. There is not much strategy to Nordea other than their dividends. Nordea made a 8,66% payout of dividend. At a share price of 6,74 euro with a payout of 0,69 per share, they are a good dividend investment to me. Furthmore, Nordea is reporting positive income. Sadly, Nordea's revenue is decreasing year for year. In 2015 they were at 9,5 billion euro in revenue. In 2018 they are down to 8,8 billion. It is not a drastic decrease, but i would rather they were increasing in revenue.
Nordea is the biggest dividend paying stock according to the Nordnet.dk. With a revenue of about 9 billion per year, and the fact that they managed to pull through the dot.com and the housing crisis makes me not worry about a potential next financial crisis for the long-term.
Novo Nordisk B A/S; Ticker: NOVO B – Stable/growth
Novo Nordisk is a big Danish corporation which specializes in diabetes, obesity, haemophilia, growth disorders and hormone replacement therapy. Currently over 29 million people around the world use their diabetes products, split in more than 170 countries. Diabetes is by far Novo Nordisk biggest market. Over 80 percent of their revenue is coming from diabetes medicine.
Novo Nordisk is a company which understands to generate money with the environment and social aspects in mind. They have an incredible profit margin of 34,5%. In numbers that means of the 112 billion DKK they had in revenue, they get 38,6 billion on the bottom line. As a part of their financial statement they focus on their CO2 use, share of renewable energy etc. Some of the other companies i have invested in also briefly looks at their overall sustainability. However, Novo Nordisk is focusing their business model on the triple bottom line. To make good better, Novo Nordisk is also paying 3,16% in dividend.
Novozymes B A/S; Ticker: NZYM B – Stable/growth
I invested in Novozymes based of the fact that they are the sustainable future, from my point of view. Novozymes originates from the same corporation as Novo Nordisk, hence they share many of the same values. Novozymes are also building their business model on the triple bottom line. As the name suggest, Novozymes are developing enzymes. While Novo Nordisk is a social oriented company (focusing on medicine), Novozymes are a environmental AND social company. An example from Novozymes own page goes as follows:
Financially Novozymes is no bad investment as well. With a revenue of 14,4 billion DKK and 3,2 billion DKK in net profit. Furthermore, they are paying a dividend of 1.61%.
Topdanmark A/S; Ticker: TOP – Dividend
Topdanmark is the second largest insurance company in Denmark. They have business within life insurance, households, small to medium enterprises and agricultural businesses. Their non-life customers are a market share of 16%. While their life insurance is Denmark's sixth largest with a 10% market share. Topdanmark is also a company that values the social aspect of work. They are among the happiest workplaces in Denmark, employing 2.450. Offering lunch services, free fruit, art, wine, lecture clubs, flexible work hours etc.
Topdanmark is a stable company making a net profit of 1,2-1,7 billion a year. In 2018 they had a financial setback on their revenue, going from 21,2 billion DKK in 2017 to 16,7 billion in 2018. However, the net profit was quite stable, only going from 1,7 billion DKK to 1,3 billion DKK.
Conclusion on stocks – High risk, hopefully high reward!
What can be observed through my stock investments are they are mostly speculative. With my young age i fell i can afford whatever loss may come to my portfolio. While the investments are generally risky, i have included a few stable and dividend stocks in my portfolio as well. My stocks are bought for long-term holds. I will not be selling any share unless i can make good profits. The stocks i have in my portfolio is what i see can have potential to be big in the 5-10 year future. Regardless of a crisis i will hold the stocks, eventually "dollar average" on the way down.
Follow my income page to see the stock dividend and portfolio growth.
Disclaimer: This post may contain affiliate links. I may receive a commission when you, the visitor, uses an affiliate link. Investing involves risk of losses.